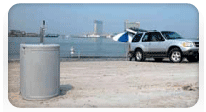 Your home is the one place where you can really unwind and enjoy the quality of lifestyle you deserve. Sharing the good life with friends and family is an American tradition.
Imagine having a home keg cooler for entertaining in or outdoors. If you enjoy beer, imagine dispensing a cool refreshing draft from your Sudsbuddy.
You will not only impress your guests, but will save time, money and hassle of frequent restocking. Cans and bottles take up room in your cupboard and refrigerator. Once emptied, they have to be stored and put out for recycling. It would take approximately 165 12-ounce containers to equal the amount of beer in a 1/2 keg (approximately 1,984 fluid ounces). The typical 1/2 keg of beer costs approximately $60.00. The average cost of a six pack of beer is $5.00. You'd have to spend $140.00 on six packs of beer to equal the same amount of beer in a keg! That's an $80.00 savings just by purchasing a 1/2 keg of beer. Purchasing only twelve 1/2 kegs of beer would save you $960 - basically paying for the Sudsbuddy cooler itself! With properly maintained temperature and CO2 pressure, keg beer should retain its fresh flavor for at least 2 months (individual results will vary).
"WHY BUY A SUDSBUDDY?"
ASK YOURSELF THESE 12 QUESTIONS TO DETERMINE IF THE SUDSBUDDY BEER KEG COOLER IS RIGHT FOR YOU!
Does the "old square cooler" (o.s.c.) have digital display temperature control with auto & manual defrost?

Does the (o.s.c.) have optional SudsCounter technology with ability to count beer flow from faucet & display how much beer is left in the keg?

Does the (o.s.c.) come in 7 color choices (light and dark granite, sandstone granite, red, green, blue, and black)?

Does the "o.s.c." come in a décor-pleasing rounded design? (Unlike the "o.s.c." you won't be forced to keep your Sudsbuddy in the garage)

Is the "o.s.c." dent resistant and made of durable, rotational-molded plastic?

Does the "o.s.c." utilize reliable, solid state, thermoelectric cooling components?

Can the "o.s.c." control internal temperatures ranging from 32 to 65 degrees F? (Ideal temps. for homebrewers making lagers or ales)

Does the "o.s.c." ship via ground carriers? (Fed Ex or U.P.S. = No hassles with freight companies.)

Does the "o.s.c." have built-in, recessed handgrips for ease of moving unit to various locations? (No need for wheels)

Does the "o.s.c." weight 70 lbs (empty) and is it capable of holding a 1/2 barrel (15.5 gallon keg)? (Some "o.s.c" do not hold all size kegs.)

Can the "o.s.c." be powered via an optional 12V cigarette/accessory adapter for tailgating?

Does the "o.s.c." come with a Lifetime Warranty on the molded body and door? (No one is offering this industry exclusive.)
If you could not answer "yes" to any of these questions, then the Sudsbuddy beer keg cooler is right for you!